Makrut Lime and Lemongrass Clams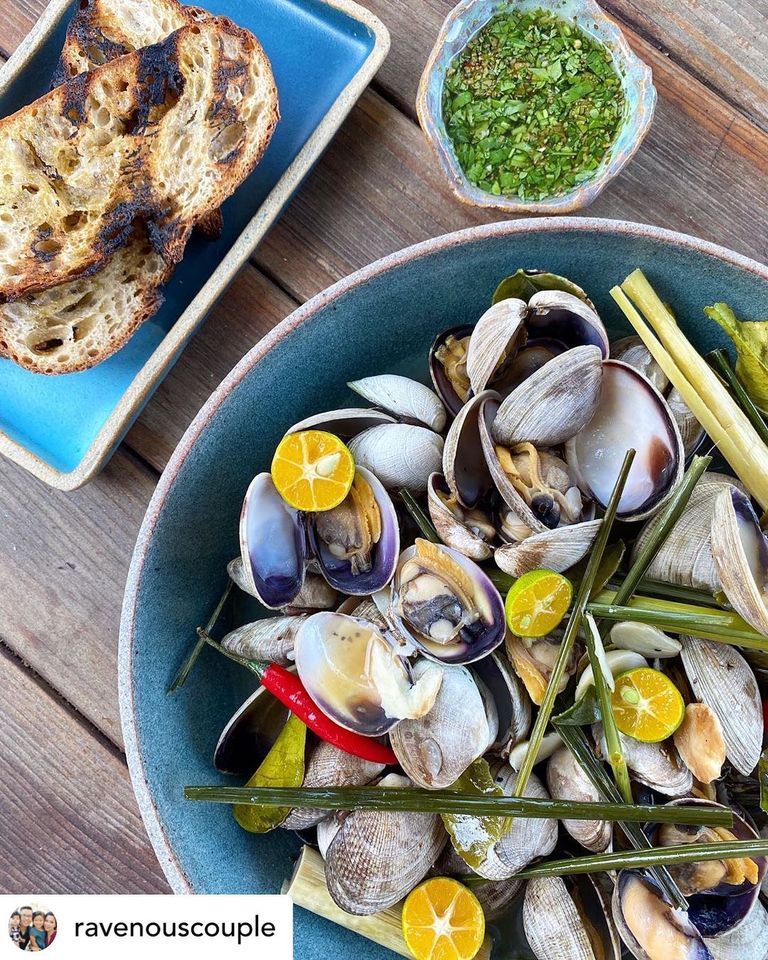 Makrut Lime and Lemongrass Clams steamed in Coco-rico by The Ravenous Couple
2 lbs of Manila clams
1 tbs oil
1 sliced shallot
4 cloves of garlic
2 inch sliced ginger (about 2 pieces)
1 stalk of lemongrass (cut into 3 inch pieces and bruised)
2 birds eye chili
1 can of coco rico soda
1 cup of chicken broth
2 tbs Son Fish Sauce
1 tsp salt
1 tsp pepper
Soak clams for 20 minutes in lightly salted water an rinse a few times to get sad out of clams. 
Saute shallots and chopped cloves of garlic until fragrant with 1 tbs of oil until fragrant. Add chicken broth and coco rico soda. Add ginger, bruised lemongrass. Add fish sauce and salt and pepper and let simmer for 20 minutes. Season to taste. Bring to soft boil. Add in clams and stir occasionally till they open (about 5 minutes). Add in optional lime
Serve with grilled sourdough bread brushed with olive oil. Enjoy with Cham Dipping Sauce. 
For more delicious recipes, follow The Ravenous Couple