Guess what?  The new Tamarind Cham Dipping Sauce is great with fried chicken. Fried Chicken Wings Recipe:  ingredients: 2 tablespoon Vietnamese ...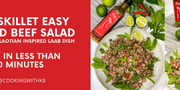 Beef Laab Recipe : A quick Thai and Lao-inspired beef recipe that is fresh, flavorful, and healthy! It's an explosion with flavor with spicy, sour, sweet, and salty notes in each bite for a great umami. Also makes a great salad protein topping and can be paired with herbs and fresh greens.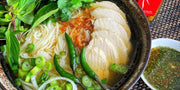 Instant Pot Chicken Pho Recipe (Phở Gà) by Food is a Four Letter Word With Beef Pho, people like to dip the beef in a mix of Hoisin + Sriracha,...