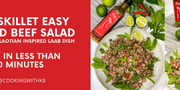 Beef Laab Recipe : A quick Thai and Lao-inspired beef recipe that is fresh, flavorful, and healthy! It's an explosion with flavor with spicy, sour, sweet, and salty notes in each bite for a great umami. Also makes a great salad protein topping and can be paired with herbs and fresh greens.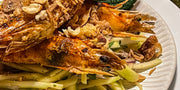 Vietnamese Green Mango Salad with Shrimp (Gỏi Xoài) by Kim's Kitchen Affair Mango Salad Recipe: 1 unripened green mango (Xoài Xanh) 1/2 red onion...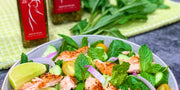 Healthy Salmon Salad by Kate Locher 2 Salmon filet (with or w/out skin)Chopped romaine lettuce 2 Roma tomatoes  1/2 hot house cucumber 1/4 purple o...