Kim's go-to recipe for PERFECT steaks EVERY time she hosts one of her famous parties. Served with Cham Dipping Sauce. She uses a sous vide device and cast iron skillet to get a predictable and successful steak night, but this is optional. The sous vide will allow you to set it and forget it for 2 hours, then do a quick sear while adding flavor for a few minutes before serving. As a hostess with the mostest, easy and quick recipes are important!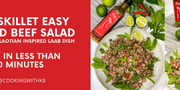 Beef Laab Recipe : A quick Thai and Lao-inspired beef recipe that is fresh, flavorful, and healthy! It's an explosion with flavor with spicy, sour, sweet, and salty notes in each bite for a great umami. Also makes a great salad protein topping and can be paired with herbs and fresh greens. 
Try Cham Dipping Sauce with steak - it pairs perfectly for a delectable deep rich flavor.