Vietnamese Baked Salmon Spring Rolls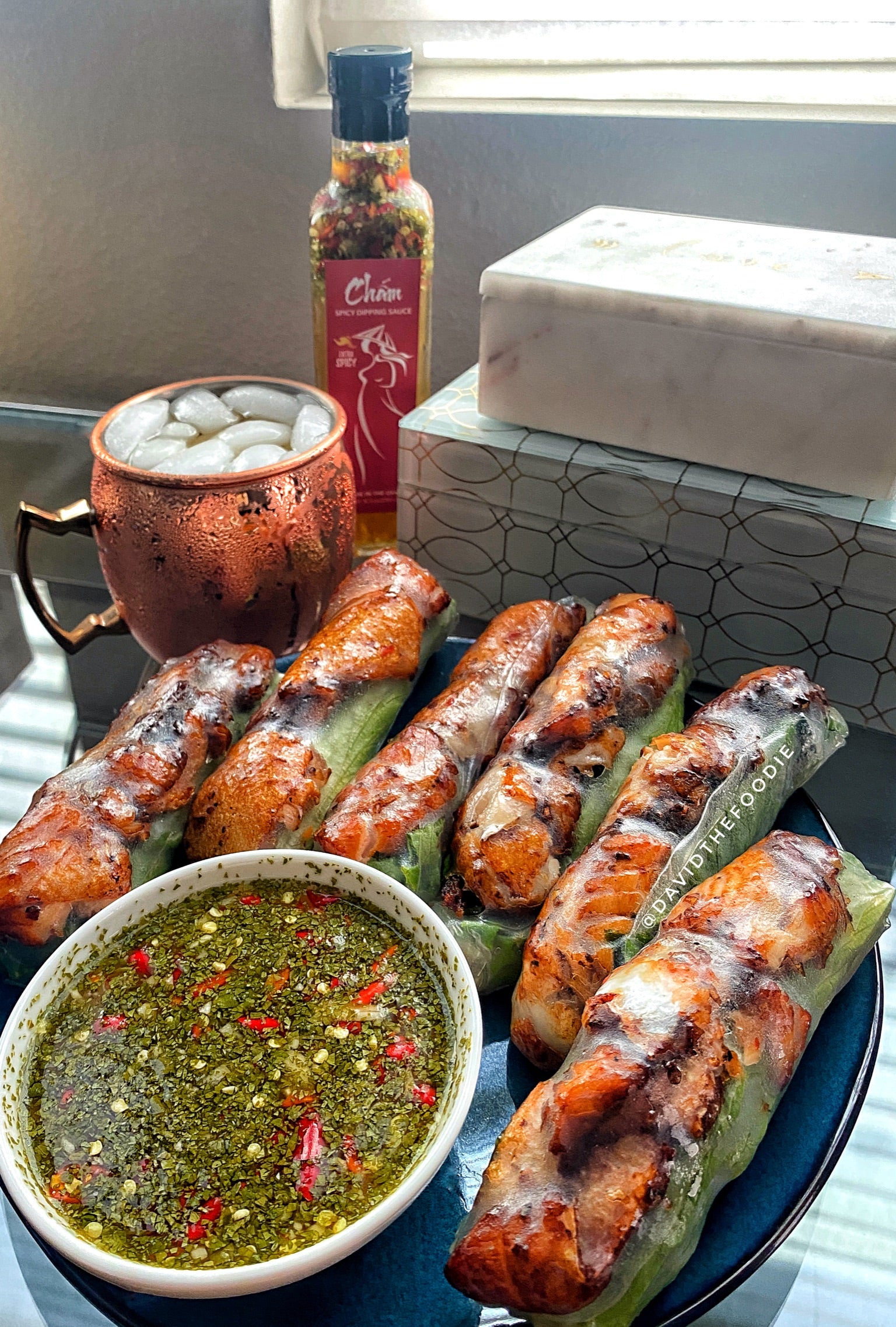 Vietnamese Baked Salmon Spring Rolls by

David the Foodie
Ready in 30 minutes and low-prep! Spring rolls are super easy to serve. This Baked Salmon version just requires a quick bake, then you're ready to eat! It is a great group or family dish, or a casual Tuesday night dinner. Fresh, delicious, and with a great bonus - it's healthy! Serve with Cham Dipping Sauce.
INGREDIENTS
Salmon ingredients
Salmon filet with skin
Black peppercorn
Salt
1 tbsp Fresh lemon juice
Minced garlic
2 tbsp oyster sauce
1 tsp sesame oil
Serve and roll with these OPTIONAL ingredients:
Rice paper (Brand: Three Ladies)
Lettuce
Fresh mint leaves
Vermicelli (boil per package directions)
Green onions, cut in 3-6 inches
Pickled carrots & daikon
Cucumber, cut into spears lengthwise 
RECIPE DIRECTIONS
In a small bowl, mix the marinade: oyster sauce, sesame oil, peppercorn, salt, minced garlic, fresh lemon juice. You can estimate and eyeball the ingredient amounts to your tasting and amount of salmon.
Season salmon on both sides with the marinade. Place salmon in a baking dish.
Bake at 430 degrees for 20 minutes.
Prepare all the spring roll ingredients. These are optional and you can make your own personal spring roll spread. 
Roll salmon with rice paper, vermicelli, and veggies listed above. Dip in Cham Dipping Sauce.
That's it... Enjoy with Cham Dipping Sauce!
1 comment