Bánh Xèo Vietnamese Savory Crepes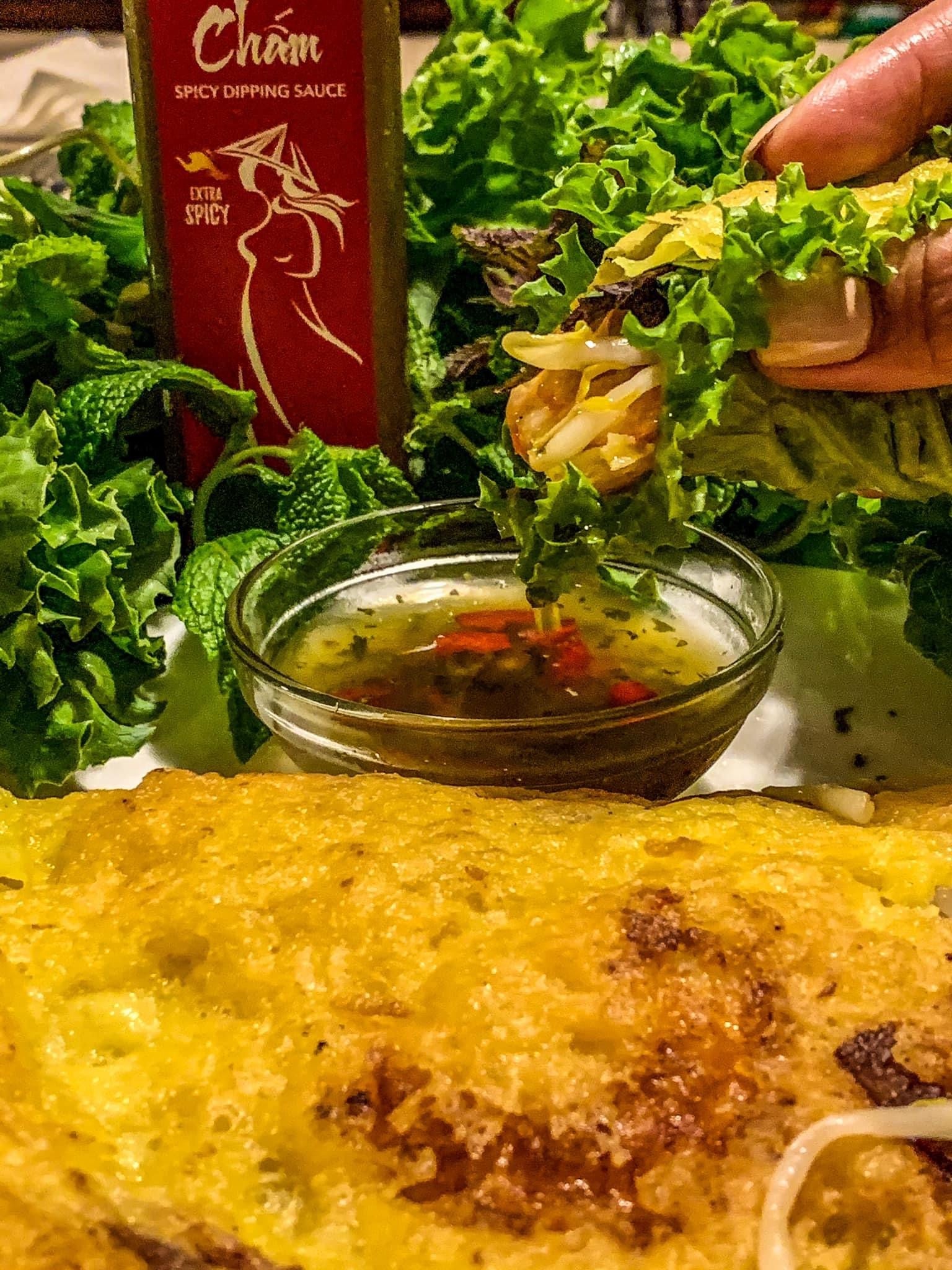 Bánh Xèo Vietnamese Savory Crepes from scratch by Kim's Kitchen Affair

5 cups of Rice Grain (I used jasmine rice)
6 cups of water
1 cup Cooked Rice
1 tbsp Turmeric powder
1 tsp Salt
1 can Coconut Milk (14 fl oz.)
Chopped Green Onions
Canola Cooking Oil
1- Rinse rice grain til water is clear 
2- Add 1:1 rice and water ratio, cover, and soak overnight with a pinch of salt.
3- The next morning, drain water, blend rice grain, cooked rice, and water (use 6 cups of water) for 3 minutes.
4- In a big bowl or pot, combine blended mixture, turmeric powder, salt, coconut milk and mix well.
5- Add chopped green onions and store in refrigerator
  (I usually mix batter in the morning to use for dinner)

How to cook it:
6- Using a nonstick pan, on high heat, add 1 tbsp oil
7- Add onions, sliced pork belly, and shrimps
8- Once shrimps barely turns pink, add batter and swirl until pan is evenly coated.
9- Add bean sprouts to one side and cover with lid for 30 seconds.
10- Remove lid and add 1 tbsp oil around the rim of the banh xeo
11- Banh Xeo is done when it stops sizzling and you do not see the batter bubbling anymore.

*Note: Add more water if needed. Batter should be runny.
Rice grain settles very quickly so be sure to mix well before each use.
If you want it extra crispy, turn heat to medium low uncovered for another 3-5 minutes. Add more oil if needed. Don't let it burn.
Eaten as a lettuce wrap with lettuce and assorted herbs. Dipped with my all my favorite Chấm Dipping Sauce.